by Nathan Tempey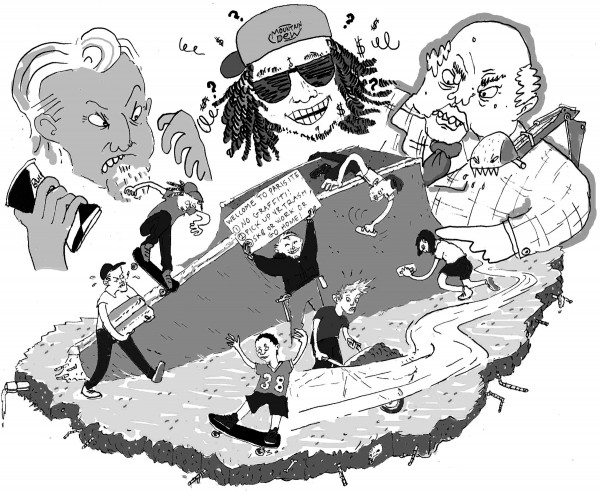 It's a windy, cold Saturday in the Gentilly neighborhood of New Orleans. Joe Billizon and Abanobi Lawes are at their local skateboard park, skating to stay warm. They take turns riding their boards up a cement ramp, each trying to balance his board on the top and roll back down without catching the front wheels on the lip. The trick, called a rock & roll, is proving difficult.
"If they hadn't built this here I might not still be skating," Lawes says between attempts. Despite the whipping wind, there is a healthy crowd present. Billings and Lawes share the concrete expanse with fifteen other skaters, half of whom are lined up waiting for a turn at the same ramp. The steel canopy of Interstate 610 looms overhead.
Lawes explains the sport's appeal: "You're independent. Learning a trick, it's up to you to try and try until you get it. You might fall but when you do get the trick, you own it. And it feels so good."
A few feet from the action, Joey O'Mahoney is tearing plywood from the side of a cement embankment with a crowbar. Elsewhere on the slab, others are busy smashing cinderblocks, sawing two-by-fours, and picking up litter. Saturday is a work day and the crew is preparing for another big concrete pour.
Named "Parisite" for its proximity to Paris Avenue, this park was constructed without permission on state-owned land. Its concrete structures are the product of hundreds of hours of volunteer labor and thousands of dollars raised through punk shows, t-shirt sales, and donations. By building it themselves, O'Mahoney and a handful of others have galvanized their community and inadvertently challenged the government and marketing forces behind two other stalled New Orleans skatepark projects.
 Spohn-sored
One stalled skatepark arrived by barge in October 2011. Sponsored by the energy drink company Red Bull, the barge carried a set of concrete ramps on a month-long promotional float down the Mississippi River, hosting onboard skate contests along the way. After a final event docked alongside the French Quarter levee, Red Bull donated the ramps to the City of New Orleans. City contractors trucked the ramps to a municipal warehouse along the Lafitte Greenway, a former rail corridor that is slated to become a three-mile linear park. There they remain, sitting on trailers.
The greenway was chosen over two other locations as the site for the Red Bull skatepark in January 2012 after a series of public meetings, but pollution concerns have halted the redevelopment of the site. Greenway construction cannot begin until summer 2013. Eager to unload the Red Bull ramps, the city is eyeing Parisite as an alternative location.
Nothing is finalized and city employees are mum about a next step, but New Orleans Mayor Mitch Landrieu has green-lighted a proposal which gives control of the space beneath I-610 to the New Orleans Recreation Development Commission (NORDC). That plan is awaiting final state and federal approval. Vincent Smith, the city's Capital Projects director, has made repeated visits to Parisite, telling the skaters he is concerned about the structural integrity of their ramps and that they should expect city surveyors to visit soon.
The surveyors' engineering tests could include core samples, which Parisite's builders worry would render the park unusable and require elaborate repair. A bigger concern is whether Parisite will be bulldozed entirely ahead of the installation of the Red Bull ramps. O'Mahoney is frustrated with the city's plans. "You have an entire city. Why put the Red Bull ramps right where we're building?"
So far, the surveyors have stayed away. Meanwhile, the tight-knit group of skaters behind Parisite has set about getting its house in order. They have brought in a structural engineer and professional skatepark builders to vouch for their work. They're photographing every step of construction to prove that it is being done to code. At a NORDC meeting in early December, they announced the formation of a new non-profit called Transitional Spaces.
At that same meeting, NORDC Chairman Roy Glapion praised the Parisite project and encouraged his fellow commissioners to visit. He was less glowing in an interview nine days later: "We would never have looked at that site if kids weren't skating there," he said. "But why would you keep a hand-built skatepark when you've got a brand new, state-of-the-art one?"
The artist Skylar Fein has taken on the role of government liaison for the DIY skatepark, making the case for Parisite amnesty to several bodies of city government. He is cautious in responding to Glapion. "Those statements aren't carved in stone," Fein said, explaining that New Orleans politicians are going through a crash course in the needs of the skateboard community. Still, he argued, those officials know that the demolition of a community-built skatepark "would be a political disaster."
Red Bull employees declined to discuss the situation, but Aaron Spohn, the owner of the company which built the Red Bull ramps is upset and vocal about it. "It makes you wonder what's going on with the local scene that things get donated and they can't even get installed," Spohn said. "You don't bite the hand that feeds you." Spohn says he has offered to go beyond his original design pledge by rendering a park where Parisite and Red Bull coexist, but he doesn't think the city is interested.
Peter Whitley is program director for the Tony Hawk Foundation, a skateboarding advocacy group, and has informally advised each of the three skatepark projects over the past two years. The foundation estimates that some 1,500 New Orleanians go skateboarding at least once a week. "I don't think that those Red Bull ramps will fill the need," Whitley said. "But it'll be nice to get those out of the story so that the community can finally be heard again. They've really disrupted the conversation—kind of like having a famous rap star come to town and build a skatepark."
 The Big DeWeezy
The other stalled New Orleans skatepark arrived under the glare of camera flashes. It was built in the name of the city's most famous living son, platinum-selling rapper Li'l Wayne. The Cash Money artist has put his newfound zeal for skateboarding front and center recently, attracting the interest of the soda company Mountain Dew in the form of a multi-million dollar endorsement deal. In the summer of 2012, Mountain Dew agreed to finance the construction of a skatepark in a Lower Ninth Ward community center in tandem with a "DEWeezy" marketing campaign overseen by marketing agency Glu.
Ward "Mack" McLendon took the beverage giant up on its offer to house the skatepark in the Lower 9th Ward Village, his warehouse-turned-community center. The former telephone technician became an activist after Hurricane Katrina but has seen national attention to the Lower Ninth Ward fade in recent years. "You couldn't ask to be dealt a better card than a skateboard park," he said. "It brings the light back to the community that has been forgotten."
At the ribbon cutting in September 2012, the park played host to a few dozen preselected ticket holders and media members while hundreds of young skaters massed outside. In a Mountain Dew YouTube video documenting the event Li'l Wayne recalls the scene, saying, "I looked out the window and there was a bunch of kids with skateboards saying, 'Can we come in?'"
Except for one day in November, they have been locked out ever since. In the fall, McLendon told a local TV news crew that the cost of insurance stood as the main hurdle to opening. By December, he said that Glu had secured insurance and that he was busy addressing building code concerns with the help of architects and general contractors. McLendon said he is "taking the bullets" of negative publicity. Glu did not respond to repeated interview requests.
 Back at the Slab
Across town, the builders of Parisite are building their own base of support. O'Mahoney is handling online outreach and park design. Marvin Hirsch, a carpenter and musician, is organizing a series of winter benefit concerts. Four shows in, he has raised close to $5,000. An organizing team meets bi-weekly in Skylar Fein's wood shop. A documentary is in the works.
Busy and tired of discussing the stalled beverage company skateparks, O'Mahoney and the two friends with whom he started building, Mark Steuer and Ally Bruser, spoke of simpler times. Before Parisite, there was the Peach Orchard, a DIY skatepark tucked between train tracks and a grove of trees not far from Parisite. The three began building there in April 2010 with a wheelbarrow, shovels, and a few bags of quick-dry concrete. Their first small ramps came out rough, developing cracks and pockmarks where gravel poked through, but they kept at it, tearing down and paving over. By spring 2012, the Peach Orchard had become a full-blown skatepark and a destination for skateboarders from around the Gulf South. On certain nights, gas generators powered live musical performances. The curved concrete surfaces bore a constantly morphing skin of graffiti art.
Then, in May, the backhoes came. Sent by Norfolk Southern, the railroad company that owns the right-of-way that included the skatepark, they destroyed two years of work in less than an hour, leaving New Orleans once again a city without a skatepark. Support poured in quickly from around the country, and within 11 days those behind the Peach Orchard began building Parisite. "The Peach Orchard was a utopia," O'Mahoney said. "Now, there's no graffiti and your board might get stolen, but the ramps are good. In no way is it worse, but the vibe has suffered."
The organization has become larger and more complex too. "The city is watching us," explained Ally Bruser, one of the original builders. "Being out there [working] on Saturdays is only a small part of what we do now."
Despite all the changes, Parisite's strength remains its physical presence. "We have to keep building because the rules that everyone else plays by– nothing ever happens," Bruser said. "The only way to get skateparks built is to build skateparks."
In an email exchange with the City's office of Capital Projects Administration in mid-January, Skylar Fein wrote:
I realize this is not how things work. They tried doing it the right way—visiting their Councilmember's office, going to NORD meetings. They were laughed out the door! We are now talking about a skatepark at that location only because they didn't follow the "correct" procedures. After a half century of skateboarding, half a century in a city with no skatepark, they forced the city's hand. As a community member… I admire them for that. And I'm not the only one.

Update, April 2013:
At its February meeting, NORDC unanimously approved designating 57,000 square feet under I-610, an area that includes Parisite, for use as a skatepark. In conjunction, the NORD Foundation committed to raising $150,000 which will go toward installing the Red Bull ramps and smoothing the existing slab under the interstate. Spohn Ranch will donate design services and money left over will go toward building additional elements.
Two and a half weeks after the announcement, skaters finished work on the first section of the DIY park. The mood is optimistic and skater-builder attention has turned to drafting legal documents to formalize permission for DIY building within the new skatepark "There's no shortage of space," Joey O'Mahoney says. "It's not like [with the Red Bull ramps in place] we can't build crazy unique stuff."
Across the Industrial Canal, the Lower 9th Ward Village skatepark opened its doors after being rewired to meet city building code, but the facility remains dependent on volunteer staffing and has allowed skaters in only sporadically since. A Glu Agency spokesperson told the Associated Press that a shift to full-time staff is "around the corner."
Share