By Jules Bentley
NOTE: For information on the NOPD assault on Eris 2011, read the follow-up or visit eris12.org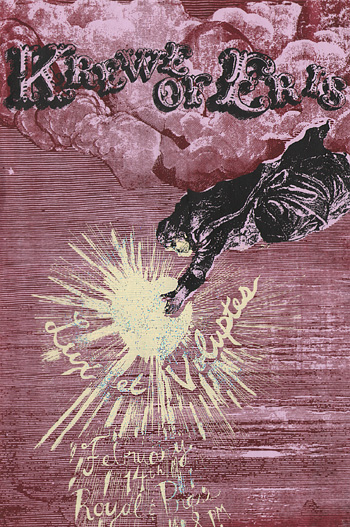 For many of its participants, the yearly Krewe of Eris parade is a highlight of New Orleans' Carnival season. Named after the Greek Goddess of Discord, this permit-disdaining anarchic foot parade is an explosion of beautiful costuming and craftsmanship that runs wild through downtown, clogging streets in boisterous celebration of unrule.
Eris is a magical experience, and like much of the best of Carnival, aspects of it are shrouded in mystery. Where does Eris come from? Does Eris really clash with the cops? Should Eris be more explicitly political, or would that detract from the creativity and pleasure of the parade? Does Eris have a meaning beyond the fun and wonder that participation offers?
While it would be unforgivable to undercut the spontaneous joy and mysticism of Eris through overanalysis, there's no denying Eris functions at least in part as a populist reclamation of space. Not only that, it's an anarchic event derived from indigenously New Orleanian traditions, rather than an imposition of templated tactics from some other part of the world. Eris started here and is rooted here. Eris is interesting both specifically, as Eris, and more generally, as an example of a tradition that was founded with an explicitly anti-authoritarian perspective and that has survived several changes of the guard, adapting and flourishing over years.
In the week before what turned out to be an unusually eventful Eris 2011, I sat down with the parade's founders, who generously gave of their time to discuss Eris' origins, where it stands now, and what the future might hold.


An Open Call
Eris first rolled in 2005, seven months before Katrina. It arose in part from its founders' participation in downtown's circus-born Krew du Poux, which has been around since the 1990s. "We felt we had outgrown Krew du Poux in some ways," said Ozone, one of Eris' originators.
Ms. Lateacha is one half of a couple that founded and bottom-lined Eris for its first few years. "We wanted something slightly more serious than Krew du Poux," she said, "that drew more from the roots of Carnival, the old-line style. More traditional, more structured, with brass musicians and different themes each year."
Her partner, Lord Willin, agreed. "This town seemed big enough for another krewe with a different aesthetic and another style."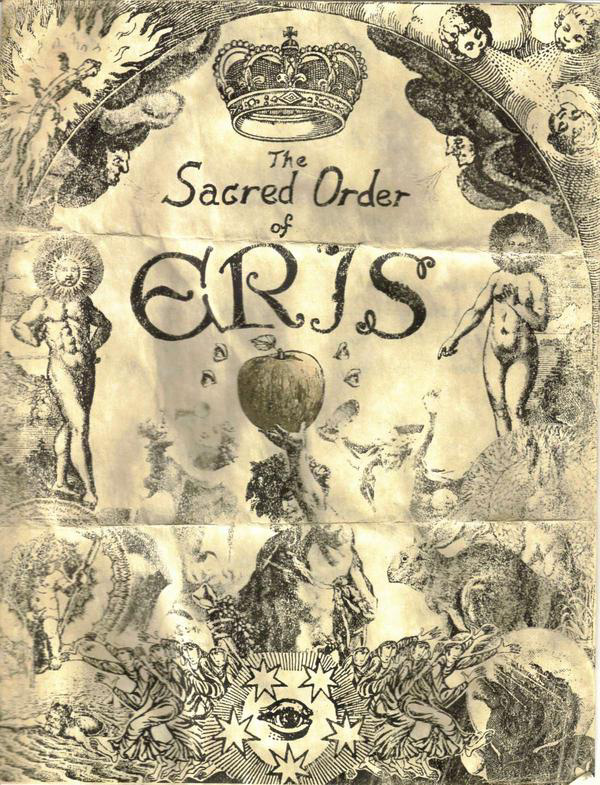 "I mostly wintered here," Lateacha said, "and I wanted to contribute and give something back to New Orleans instead of just taking and absorbing culture. I felt it was important to participate. A lot of people are just here a few years and leave, and don't give back or contribute to the city. It seemed to me a lot of people wanted to be more involved in Carnival, wanted to be part of it besides just making costumes for Mardi Gras day. Many people who came down here, even after living here for a while, still felt 'outside' Mardi Gras. They didn't grow up in families that participated in it. They weren't organically connected to it. They would just attend other people's events as bystanders, or sink big money into joining groups like Krewe de Vieux."
Almost all of New Orleans' most famous Carnival Krewes are closed to new members except via invitation, and are very expensive to participate in, with yearly dues running from thousands to tens of thousands of dollars. These dues are what underwrite most parades' floats, throws, permits, and parties. One of the ways Eris differs is that everyone and anyone is encouraged to participate, not just spectate, and participants create their own elaborate costumes and person-powered floats, sharing resources with one another. In many ways, it's a DIY parade. "We were amazed," Lateacha said, "that within the pantheon of all the big krewes with god names, Eris wasn't taken. It seemed appropriate and fortuitous."
With regards to Eris' germination, Ozone said, "At the time I'd been doing a lot of reading. I'd read [James Gill's] Lords of Misrule, which talks about Mardi Gras as a day of leveling, a day of unrest when the social order was turned upside-down. This was before the big krewes and their giant floats, which those big krewes began doing partly as a way to distract people, to focus Mardi Gras on the celebrations of the wealthy and powerful, and to reintroduce a mystical awe towards the ruling class that was lost after the United States bought Louisiana."
Eris sought to bring back something rowdier, a parade that looked more deeply into the past and drew from older traditions. "It didn't exactly become that, though," Lord Willin said. "Even the first year, it was just an open call for creative chaos."
That, the founders agreed, was not a bad thing at all. Over the years Eris has grown in size and reputation; it's now the favorite parade of many locals. It's also inspired and taught a lot of people how to make their own costumes.
Eris' second year, the first Mardi Gras after the failure of the federal levees, was a turning point for Eris as it was for so much of our city's cultural life. "Our theme that year was Noveaux Limbeaux," Lateacha said, "to capture the mood of uncertainty that was pervading the city. Everything seemed up in the air. Some people were saying Mardi Gras shouldn't happen at all, and we were unsure how Eris would come off. But it was a couple hundred folks, and as it went on you could feel it taking on a hopeful spirit."


Discordant Harmony
The Eris band is unmistakably central to the parade. An ad hoc assemblage of horn players and percussionists, the band has its own unique and distinctive sound, in particular the loopy, swerving rise-and-fall signature of its haunting motif, the "Eris theme" or "Eris song."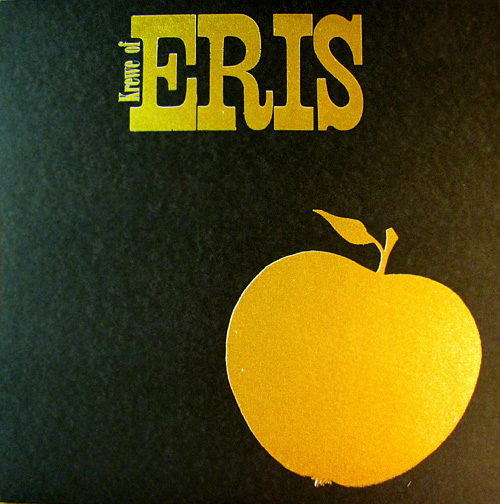 For anyone who's participated in Eris, that song is powerfully evocative. It resurfaces throughout the course of the parade, a layered, rhythmically lurching minor-key riff that sounds like the drunken unwinding of empire's clockwork. This motif and many of the tunes the Eris band plays were written for Eris by a musician, bandleader and music instructor named JR, who in the weeks before each year's parade would gather anyone who wanted to participate and teach them how to play simple tunes on brass instruments.
Over the years, many of the casual musicians from Eris bands have continued to practice and learn their instruments year-round. Many of them are now full-time musicians themselves, writing new Eris music and teaching new band members how to play.
Just as with the band, duties related to many other aspects of Eris have been passed along, becoming less centralized. "We put in a lot of long hours bottom-lining Eris," Lord Willin said. "Back when it was just me and Lateacha making the decisions, deciding things was easy, but getting them done was more difficult because people would take on duties and then not show up."
"We worked hard to keep people informed about Eris," Lateacha said. "We'd always be reaching out to people who wanted to be involved, making sure they knew what was happening. But when it came to decision-making, it was just the two of us. When we chose the year's theme, for instance, we didn't include other people in that, so there was no-one to be left out. Then, when we quit being in charge and Eris became a group decision-making process, suddenly there were people who were in the group and people who felt left out."


Who Eris is vs. How Eris is
That was just one of the growing pains attending the decentralization of Eris' decision-making process. "For instance," Lord Willin said, "every year once the theme is decided, there's an official written proclamation. Back when Lateacha and I were doing all the work, there was a certain kind of flowery language and a specific artistic aesthetic we aimed for with those."
"I loved the formal style of the old Mardi Gras announcements," Lateacha said, "The krewes each commission these big watercolor paintings of all their floats on a scroll. It's beautiful, and I wanted us to be able to do that with almost no money."
Those proclamation posters, painstakingly blockprinted and decorated, are in high demand. "People appreciated those announcements," Lord Willin said, "and wanted that to carry on. Eris itself has become a tradition, so now there's a drive to preserve its traditional aspects. Now the people who do the announcement every year feel pressure to keep it in that style and tradition, although personally I don't really give a shit if the language sounds the same as we sounded like."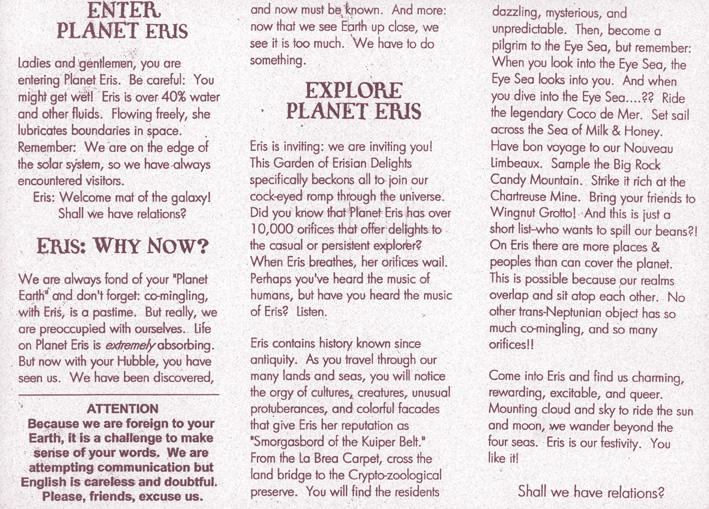 "Absolutely," Lateacha said. "It would be fine with me if people wanted to do it differently."
The pressures around that single piece of Eris are symbolic of a larger, nebulous conversation within the group about continuity and the nature of Eris. One unprecedented and highly controversial occurrence this year was the the Eris planning meeting being announced on Facebook. "That sparked a lot of people's insecurities," Lord Willin said. "What if Eris becomes this online, anonymous thing? People wanted to keep it embodied, keep it on the ground, keep it face-toface. Eris is participatory and decentralized and it's for everyone, but there are people who've put a lot of energy into it over the years and want to keep certain ideals of it central."
"And yet," Lateacha said, "Having the announcement on Facebook let a lot more people know when the meeting was. It resulted in the largest real-world Eris planning meeting to date."


Strife in the Streets
In the past, there have been confrontations between Eris and NOPD. There are those who feel Eris should push harder in that direction, but those aren't necessarily the same people participating in the parade or planning it. "I don't have a lot of truck with people wanting Eris to fuck shit up and overturn cop cars," Lateacha said. "We have a certain amount of freedom and I'd like to see less of people going to jail. For me Eris is constructive, not destructive. It's a way for people to make art and reclaim Mardi Gras. I'm not sure people understand how lucky we are to be able to have a parade and no permit in the first place."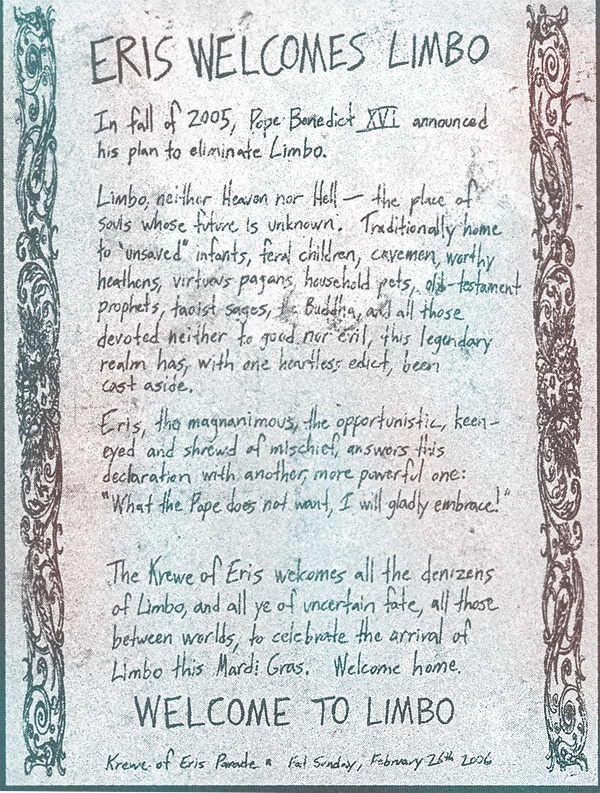 After conflicts in the past, Eris is re-routed this year, avoiding Decatur in the French Quarter and Jackson Square, which had become a flashpoint for conflict with NOPD. "It's a very controlled space," Lateacha said of Jackson Square. "Last year the cops were arrayed there waiting for us. New Orleans police hold grudges, and these days they figure out ahead of time when we're happening. We used to have the advantage that they were all at Bacchus, but now they're ready. Even if we 'liberated' Jackson Square, it would only be for five minutes. That doesn't seem worth what it would cost. I think Eris reclaims enough space through movement, and keeping moving is a big part of Eris. By focusing on taking a single space, you sacrifice continuing feelings of liberation for a single moment of liberation. There are times when that's worth it, but as someone who believes in the longevity of Eris, I don't think this is one of them.
Ozone was more blunt. "I think it's strategically retarded to be seeking confrontation when everyone's dressed up in gigantic glow-in-the-dark baby doll costumes," he said. "You gotta choose your battles, and you don't want to get a lot of people hurt."
Lord Willin concurred. "People getting thrown into cop cars is incredibly destructive to the parade and the mood of it. I'm not sure that people who are participating in Eris are signing up for that. In some ways, Eris is definitely not quite living up to its revolutionary or insurrectionary inspirational beginnings, because it's now a tolerated part of Mardi Gras. But it is a high point in the lives of the participants, whatever that's worth, and I think that's worth a lot. I'd like to see the krewe be more active beyond just the yearly parade, even if that's just the Eris band coming out to support other community events."
Lateacha compared the possibility of an expanded Eris to the way traditional Social Aid and Pleasure Clubs operate, helping build community unity and sponsoring social or fundraising events throughout the year.


Sowing Seeds
Of course, no joy exists without sadness, and your relentlessly negative reporter demanded from each of his interlocutors a worst-case scenario. What were their deepest fears about Eris' future? Were they afraid of Eris dying out or being outlawed? No, in fact, their concerns were more profound.
"We gave a random punk girl a ride down to New Orleans this year," Lateacha said, "and she was like, 'The only good things about Mardi Gras are Eris and the Panorama Brass Band.' I was so offended. I was upset to even have her in the car. Her, right there, that's my worst-case scenario: that rather than contributing positively to Mardi Gras, Eris just takes over and becomes Mardi Gras for some people."
"I would hate for it to become that," Ozone said. "Some hipster thing, some navel-gazing event that's just about itself and people trying to feel cool. 'Oh look what me and my friends do.'"
"Another nightmare," Lord Willin said, "would be that people keep trying to do it after the inspiration is gone, that Eris wouldn't stop after it needs to stop. The vitality would be drained, and even though it had stopped being fun, or fulfilling, people would just go through the motions because they felt they should. I'd dread that, to see Eris shuffling through the streets like a zombie."
Watching the parade grow from year to year, that dark future is hard to imagine. "Eris in good hands," Lord Willin said. "A lot of hands."
"Yes it is," Lateacha said. "I just hope I can get one of the posters."


---

FOLLOW-UP
By: Apaira Paraders

It would be weird not to somehow acknowledge what went down at Eris 2011… what follows is a brief postscript by other authors detailing important events that transpired during this year's parade.
On the night of March 6th, during this year's "Sunday Gras", the Krewe of Eris convened for yet another year of discordant celebration. The 2011 theme, Mutagenesis, made commentary on a year marred by corporate contamination and state collusion by celebrating the inventive life-forms who survive it each and every day. The open-ended call was answered by a cantankerous krewe of Kafkaesque creatures. Restless swamp spirits, the many-headed hydra of capitalist resistance and a pissed-off dolphin teamster were but some of the riled beings following the cacophonous dirge of the Eris band and flag corps. As in the past, hundreds of peaceful, joyful paraders took to the streets of the Marigny and French Quarter, but the parade's ending this year was very different.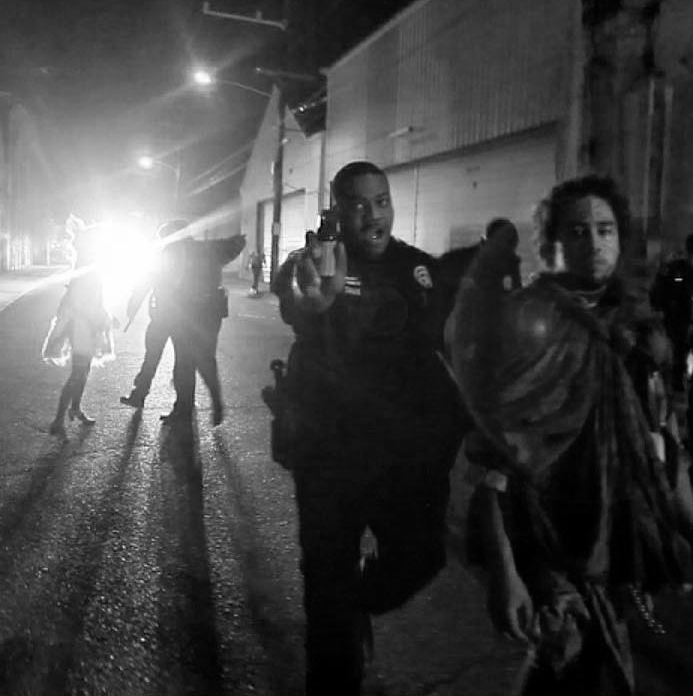 Only blocks from the end of the parade route, police cruisers swarmed into the middle of the crowd and NOPD began indiscriminately tazing, pepper-spraying and baton-whipping the crowd. While extreme police violence is a New Orleans tradition, this attack was still very alarming. No warning was given, no regard shown for the small children present. Members of the brass band were targeted, many having their instruments smashed. Video footage would later surface showing cops macing and attacking anyone with cameras, and 12 people were taken to Orleans Parish Prison, some suffering serious injuries. Were it not for the hundreds of people thronged around this brutish offensive, certainly many more would have been beaten worse than they were… but if the officers of the 5th District were looking for an easy roundup to meet their Mardi Gras quota, they did not find it at Eris.
The assault on Eris is part of a larger trend in New Orleans. Attacks on free space, like the wanton inflation of rent in poor neighborhoods and the razing of hundreds of houses for a new upper-end hospital, stem from an effort to gentrify the city and homogenize its culture. We saw it again this Ash Wednesday when the NOPD broke their own laws in order to shut down the ARC, a warehouse space that has for years been home to Plan B Community Bicycle Shop and the Iron Rail Library and Bookstore, among a host of others. Indeed, this same tension lies fizzing wherever the cops lurk, flaring up every time the city's new-arrived new money finds some other aspect of New Orleans distasteful and sics the cops on it.
The Eris arrestees currently face exorbitant hospital bills and court fees. To show your solidarity, read more about the NOPD's attacks on the parade, or find out when the next benefit show will be, check out www.eris12.org.